These 10 bi sites are ranked
in the Top Million Websites
FALL 2005:


1.
6.
2.
7.
Bi Finder
www.bifinder.com
Rank 306,323
3
Bisexuel Denmark
www.bisexuel.dk
Rank 109,853
8.
4.
9.
5.

Bi The Way
www.bitheway.org


Rank 157,056




10.
Anything That Moves
www.anythingthatmoves.com
Rank 611,301

SOURCE: The marketing research data necessary
to produce this top 10 report is provided free
by
www.ranking.com
TM

When searching for the words
"bi men" in Google, the Bi Men Network
is listed in the first ten listings out of 10,700,000!
On September 20th, the Bi Men Network
was listed as Number 1 and 2!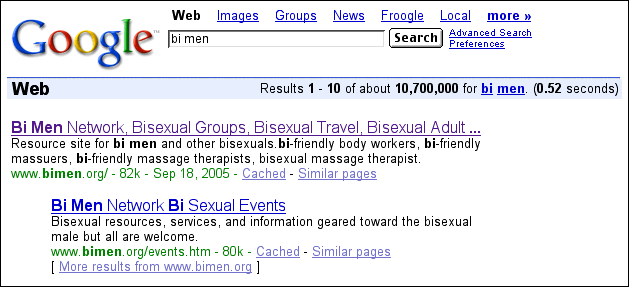 SOURCE:
http://www.google.com/search?hl=en&lr=&ie=ISO-8859-1&q=bi+men


MEN! We have come a long way baby over the last seven years! Our hard work has paid off & we are the very TOP bisexual MEN'S website & the number two overall bisexual website out of the top million most popular & most visited websites on earth today!

Bi MEN NETWORK = www.bimen.org

"You are NOT alone!"